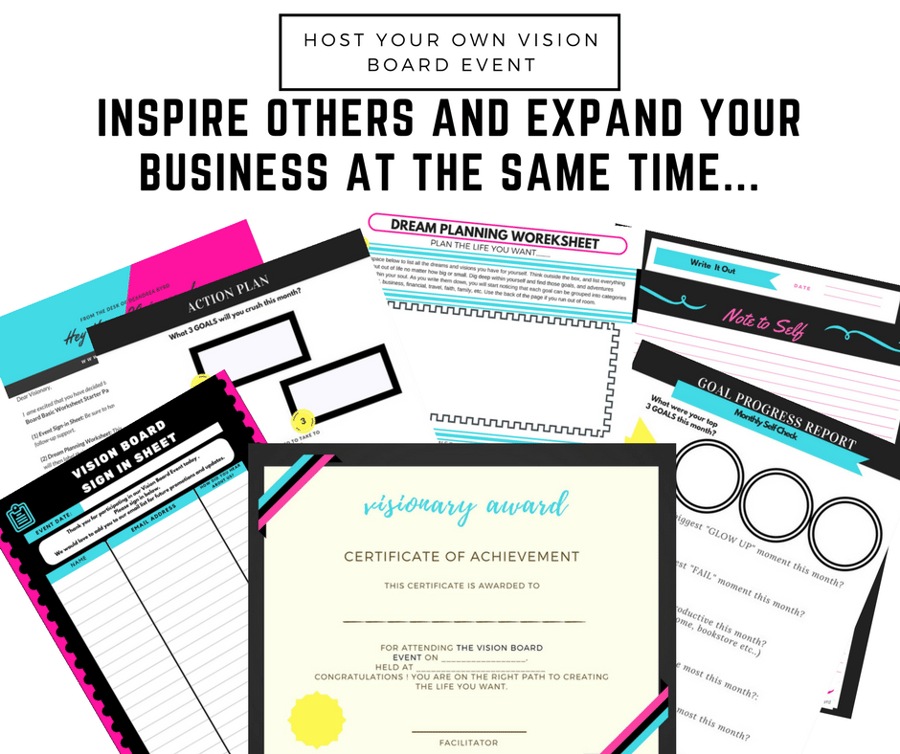 Vision Board Event Starter Kit (Instant Download)
$

47.00
Dear Visionary,
I am excited that you have decided to host your very own Vision Board Event. Thank you for purchasing the Vision Board Basic Worksheet Starter Package. Enclosed you will find the following worksheets:

(1) Event Sign-in Sheet: Be sure to have ALL guests sign-in, so that you may capture their email addresses and offer follow-up support.
(2) Dream Planning Worksheet: This worksheet will allow your guests to write out and prioritize their goals. They will then label their goals and select the top 3.
(3) Monthly Goal Setting Worksheets: Allows your guest to break down their goals into sections, select deadlines and focus on specific tasks.
(4) Action Plan Worksheet : Requires your guest to plan the steps needed to complete each goal
(5) Daily Planner Worksheet: The daily planner worksheet will serve a template for your guests to start pre-planning their daily tasks to encourage better time management skills.
(6) Custom Notebook Stationary: Custom notebook paper is provided for your guests to be able to write down any speaker quotes or notes.
(7) Self Check Progress Report Worksheet: The Progress report is an accountability tool for guests to be able to track their monthly goal setting progress.
(8) Vision Board Completion Certificate: Reward your guests with a certificate of completion.
(9) 2 Coaching Calls via Zoom live video meeting Rooms
I am thrilled to be able to share this information with you so that you may go out and inspire the world!
I hope to meet you in the future! Thank you for the support and purchase.
XOXO
DeAndrea Byrd
Your Fairy GOAL Mother